Opening hours
| | |
| --- | --- |
| Monday: | Closed |
| Tuesday: | Closed |
| Wednesday: | Closed |
| Thursday: | Closed |
| Friday: | Closed |
| Saturday: | Closed |
| Sunday: | Closed |
Ski conditions
Weather forecast:
Thursday (7.7.)

10 to 18°C
Friday (8.7.)

11 to 16°C
Reviews from skiers
Ski Makov has not been rated yet this season
Pricelist Ski Makov
WINTER 2018/2019
PRICELIST OF SKIPASES
adults
children
Prices in €
1 day *
20
16
4 hours
18
15
2 hours
16
13
2 days
36
28
3 days
52
40
6 days with evening skiing
96
76
Evening skiing
All evening
14
12
Other skipasses
Point ticket - 200 points
135
115
Groups with more then 15 people
19
15
Children rope lift - 1 day
-
6
Snowtubing
1 run
2
5 runs
6
Pricelist information
* The deposit for the contactless card for all-day ticket is 10 € ! Deposit will be refunded only to person authorised by intact identification bracelet !
Deposit 3 Eur for contactless card (except of all day skipasses).
Children ticket is valid only for children up to the 160 cm of height.
2,3,6 - day ticket is only valid for 2,3,6 consecutive days.
Evening skiing takes place only by good snow conditions.
Point deduction - 2 points / big skilifts (H210), 1 points / small skilift (P)
Map - Ski Makov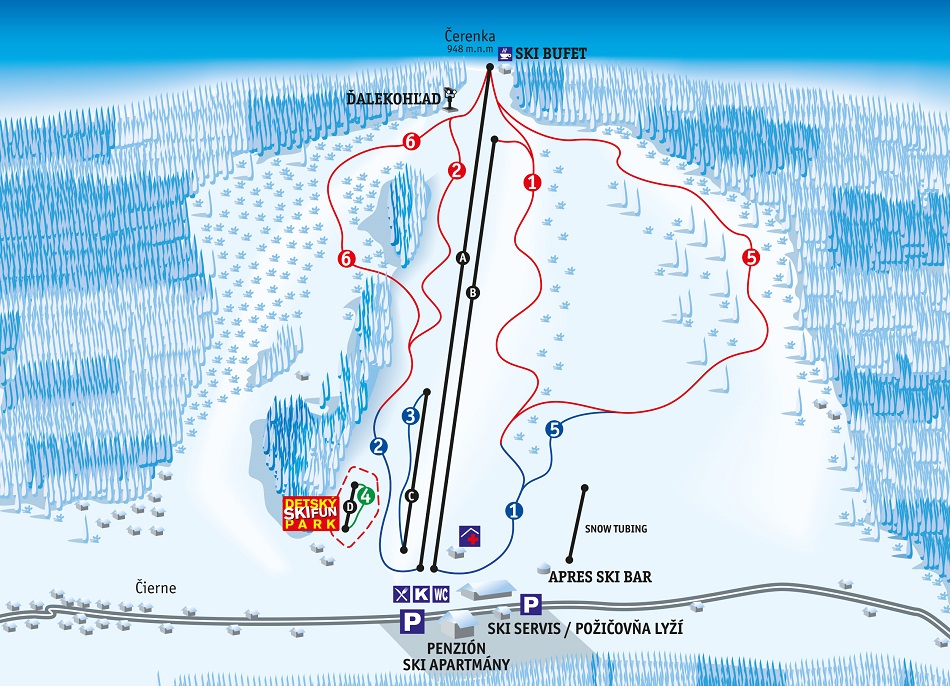 Downhill slopes
Length
Rise
Conditions
Operation
Lifts

Tatrapoma H 210
1450 m
900 m

Tatrapoma H 210
1200 m
900 m

Tatrapoma P
340 m
650 m

LPVE 1,5-100 detský lanový vlek
50 m
400 m
Cross-country
Length
Groomed length
Status
Beskydsko - Javornícka lyžiarska bežecká magistrála (upravovaná)
35000 m
-
Information about the resort
Attractions and services in the resort
In the resort, just next to the ski lifts, there is a newly build buffet with the possibility of sitting inside or on a covered terrace with a wonderful view of the ski slopes. Skiers have the option of refreshments in the buffet at the upper lift station, directly on the ridge Javorníky, where a nice view of the resort and Beskydy. There is also a children SKIFUN park, new SNOWPARK, snowtubing, snowboarding and ski rental and ski service. For the beginners, we offer ski and snowboard school and ski kindergarten, which is operated by
MOUNTSCHOOL.
Beskydsko-Javornícka ski running main line passes through the ridge Javorníky through top Čerenka 948 m, while the ridge to ski lift exports and supplies to the ridge Beskydy.
Attractions and services available in the vicinity
In the Makov municipality (2 km from the resort), there is a ice rink, ATM, change office, railway station and other food and accommodation facilities.
Accomodation offer