Vrátna - CHLEB
Vrátna - Snilovské sedlo
Opening hours
| | | | |
| --- | --- | --- | --- |
| Monday: | 09:00 | - | 16:30 |
| Tuesday: | 09:00 | - | 16:30 |
| Wednesday: | 09:00 | - | 16:30 |
| Thursday: | 09:00 | - | 16:30 |
| Friday: | 09:00 | - | 16:30 |
| Saturday: | 08:30 | - | 17:00 |
| Sunday: | 08:30 | - | 17:00 |
Ski conditions
Friday 2023-09-29 (today)
16:00
14 - 15 °C
18:00
8 - 12 °C
2023-09-29
2023-09-30
2023-10-01
Reviews from skiers
2. Waiting time for lifts and cable cars
3. Staff behaviour (lifts, ticket office)
4. Price : skiing quality ratio
5. Access from the car park to the lifts
6. Availability of additional services
7. Quality of services provided
Vrátna Malá Fatra - skipasy 2022/2023
The pricelist of skipasses is valid when purchasing at the skiresort´s cash desk. ONLINE ESHOP on skiresort´s website comming soon.Možnosť kúpi skipasu aj online cez náš E-SHOP VRÁTNA
SKIPASY 2022/2023
HLAVNÁ SEZÓNA, do 9.1. - 12.3.2023
dospelí
juniori | seniori
deti
1 deň
po - pia 35 € | so - ne 36 €
po - pia 29 € | so - ne 30 €
po - pia 24 € | so - ne 25 €
4 hodiny
po - pia 30 € | so - ne 31 €
po - pia 25 € | so - ne 26 €
po - pia 22 € | so - ne 23 €
Od 13:00
po - pia 23 € | so - ne 24 €
po - pia 21 € | so - ne 22 €
po - pia 17 € | so - ne 18 €
Večerný
17
17
17
Kid´s Zone - 2 hodiny
9
9
9
2 dni
68
54
49
3/4 dni
97
78
69
4/5 dní
124
105
91
5/6 dní
150
124
110
6/7 dní
171
143
131
7 dní
190
164
151
Rodinné skipasy
2 + 1
po - pia 86 € | so - ne 89 €
2 + 2
po - pia 105 € | so - ne 109 €
2 + 3
po - pia 127 € | so - ne 133 €
Jenorazové lístky
LD Paseky ↑↓
12
11
10
LD Paseky ↑
11
10
9
LD Paseky ↓
8
8
8
KLD Chleb ↑↓
16,50
14,50
12,50
KLD Chleb ↑
15,50
13,50
11,50
KLD Chleb ↓
11,50
11,50
11,50
Skialp
5
Batožina / pes
5
SKIPASY 2022/2023
MIMOSEZÓNA, do 24.12.2022 | od 14.3.2023
dospelí
juniori | seniori
deti
1 deň
po - pia 28 € | so - ne 29 €
po - pia 22 € | so - ne 23 €
po - pia 19 € | so - ne 20 €
4 hodiny
po - pia 24 € | so - ne 25
po - pia 19 € | so - ne 20 €
po - pia 15 € | so - ne 16 €
Od 13:00
po - pia 16 € | so - ne 17
po - pia 14 € | so - ne 14,50 €
po - pia 11,50 € | so - ne 12 €
Večerný
14
14
14
Kid´s Zone - 2 hodiny
5
5
5
2 dni
51
45
34
3/4 dni
73
62
50
4/5 dní
98
79
69
5/6 dní
120
102
88
6/7 dní
131
119
105
7 dní
150
135
120
Rodinné skipasy
2 + 1
po - pia 66 € | so - ne 69 €
2 + 2
po - pia 76 € | so - ne 80 €
2 + 3
po - pia 92 € | so - ne 96 €
Jenorazové lístky
LD Paseky ↑↓
12
11
10
LD Paseky ↑
11
10
9
LD Paseky ↓
8
8
8
KLD Chleb ↑↓
16,50
14,50
12,50
KLD Chleb ↑
15,50
13,50
11,50
KLD Chleb ↓
11,50
11,50
11,50
Skialp
5
Batožina / pes
5
Informácie k cenníku
Deti do 6 rokov (vrátane) v sprievode dospelej osoby s platným skipasom cestujú na dopravných zariadeniach bezplatne • Deti od 7 do 12 rokov (vrátane) sa musia na požiadanie preukázať preukazom poistenca alebo cestovným pasom • Juniori od 13 do 19 rokov (vrátane), držitelia kariet EURO<26, GO<26, ISIC a ITIC majú nárok na zľavu len pri kúpe celodenného a viacdenného skipasu (vek pri kúpe preukázať dokladom totožnosti, nárok na zľavu kartou zliav + doklad totožnosti) • Seniori - muži a ženy nad 60 rokov a držitelia preukazu ZŤP (preukázať sa dokladom totožnosti) majú nárok na skipas v cene juniorských lístkov • Rodinný lístok platí len pre rodičov a ich deti preukázaním sa občianskeho preukazu a kartičkou poistenca dieťaťa. Musí byť zhodné meno a adresa.
Kompletný cenník Vrátna Malá Fatra
Map - Lyžiarska mapa - Vrátna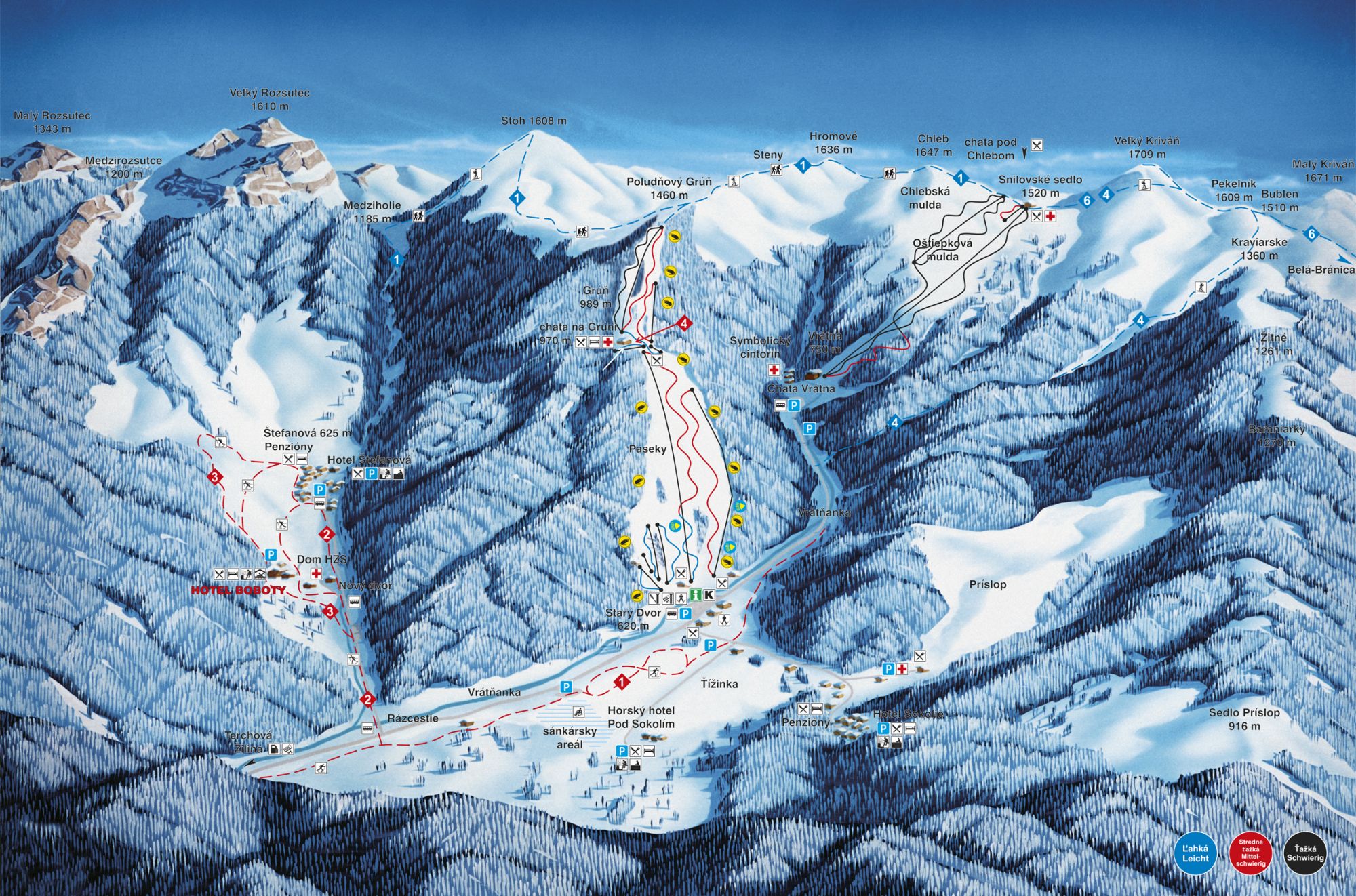 +
–
Downhill slopes
Length
Rise
Conditions
Operation
1 - Chleb, pod lanovkou
2000 m
750 m
Bad
2 - Chleb, turistická
3100 m
776 m
Bad
2a - Chleb, veterná
650 m
264 m
Bad
2b - Chleb, Oštiepková mulda
700 m
264 m
Bad
3 - Chleb, Snilovské sedlo
310 m
90 m
Bad
Lifts

A - Chleb, 8-miestna kabínka
1860 m
900 pph

B - Chleb, Kotva Doppelmayr
631 m
800 pph

C - Chleb, Snilovské sedlo vlek P
300 m
600 pph
Season 2022/2023
Information about the resort
Ski resort VRÁTNA MALÁ FATRA is located in the heart of the National park Malá Fatra, only 3 km far from dictinctive village Terchová and 30 km far from town Žilina.
The skiresort is divided into 3 parts - Paseky, Poludňový grúň and Chleb. There are 9 skilifts, 1 chairlift in locality of Paseky and 1 cableway in locality of Chleb (in operation year-round) available. The total transport capacity is 11000 persons per hour. Ski slopes of all difficulties (overall length of 12000 m, 51% with snow making system), are located in 600 - 1500 m above sea level and they are regularly treated. The longest one situated in the area of Chleb has length of 3000 m. Cross-country skiers can also have a great time in Vrátna. There are 20 km cross-country trails near skiresort. For children the Kid´s park with wondercarpet is prepared.
Further attractions and facilities
ski servis, ski rental, ski school (kid´s zone), ski depot, snack bars, restaurants, slopes for freeride, evening skiing in locality Paseky, parking, snowtubing, accommodation in hotels, chalets or guest houses possible
Contact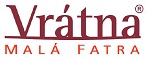 Omnitrade a.s.
Starý Dvor
013 06 Terchová
Email: infocentrum@vratna.sk
Web: www.vratna.sk
Tel: 0903 266 231