Opening hours
| | |
| --- | --- |
| Monday: | Closed |
| Tuesday: | Closed |
| Wednesday: | Closed |
| Thursday: | Closed |
| Friday: | Closed |
| Saturday: | Closed |
| Sunday: | Closed |
Lyžiarska sezóna je ukončená. Ďakujeme všetkým za návštevu.
Ski conditions
today:

15 to 26°C
Weather forecast:
Saturday (20.8.)

15 to 22°C
Reviews from skiers
2. Waiting time for lifts and cable cars
3. Staff behaviour (lifts, ticket office)
4. Price : skiing quality ratio
5. Access from the car park to the lifts
6. Availability of additional services
7. Quality of services provided
Podbanské Ski - cenník
WINTER 2021/2022
Pricelist of skipasses
adults
children up to 12 y.
1 day
13
9
3 hours
11
8
3 days
36
24
Evening skiing
8
8
Additional services
Sledge/bobsled, 1 hour
3
Sledge/bobsled, 1 day
10
Pricelist information
Upozornenie: lyžiarske stredisko Podbanské SKI funguje v režime: OTP (platí od 19.1.2022). Pri kúpe skipasu je potrebné preukázať sa platným dokladom, inak nebude skipas vydaný - v zmysle platnej Vyhlášky ÚVZ SR.
Prices in Eur.
V cene celodenného a 3-dňového skipasu je aj večerné lyžovanie.
Map - Podbanské Ski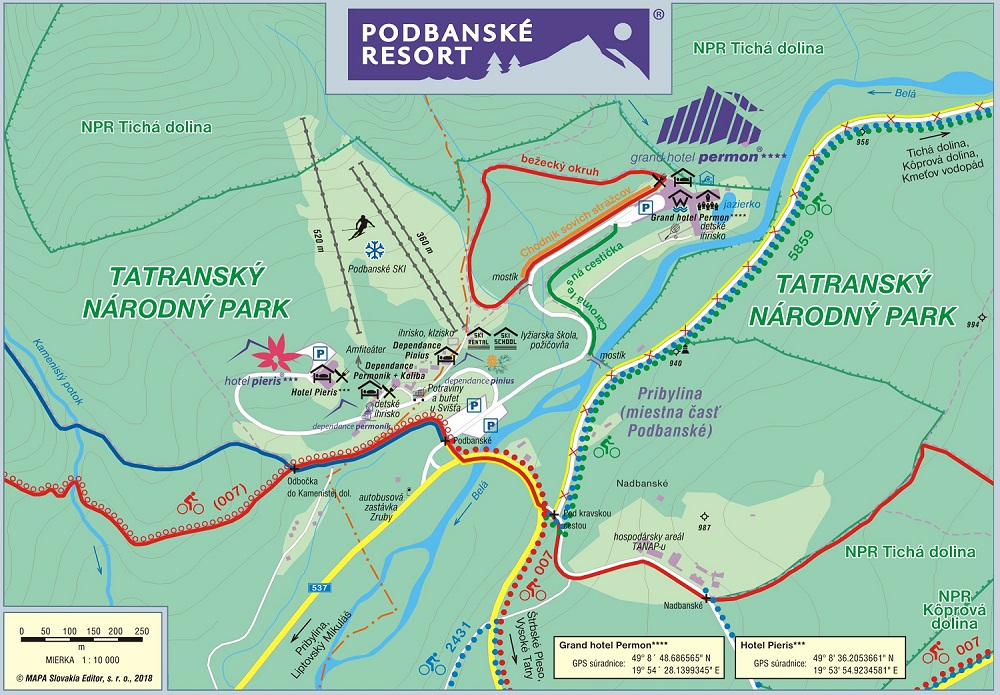 Downhill slopes
Zjazdovka I. pri vleku P
360 m
60 m
Zjazdovka II. pri vleku P
360 m
60 m
Zjazdovka pri vleku F
520 m
87 m
Lifts

Tatrapoma P
360 m
350 m

Tatrapoma P
360 m
350 m

Tatrapoma F12
520 m
600 m
Information about the resort
Ski resort Podbanské Ski is located in the mountains of High Tatra, 30 km far from town Liptovský Mikuláš. There are 3 skilifts available, with a total transport capacity of 1300 pers./hour. Ski slopes of easy difficulty (overall length of 1300 m) are located in 950 - 1100 m above sea level and they are regularly treated. Ski resort is suitable for beginners and family skiing. In case of good snow conditions the operation is every day from 9 AM to 4 PM.
Further attractions and facilities
accommodation in hotel Permon, ski servis, ski rental, ski school, free parking, snack bar