Opening hours
| | |
| --- | --- |
| Monday: | Closed |
| Tuesday: | Closed |
| Wednesday: | Closed |
| Thursday: | Closed |
| Friday: | Closed |
| Saturday: | Closed |
| Sunday: | Closed |
Ski conditions
Weather:
blowing snow
,
-2.6 °C
Saturday 2023-12-02 (today)
16:00
-4 to -3 °C
1.3 cm
18:00
-5 to -4 °C
1.1 cm
02/12
03/12
04/12
Podujatia / oznamy
Reštaurácia Jasenská dolina otvorená každý víkend od 10:00 do 17:00. Tešíme sa na vašu návštevu.
BIKE PARK otvorený SOBOTA, NEDEĽA, PONDELOK od 10:00-16:30 .
Reviews from skiers
2. Waiting time for lifts and cable cars
3. Staff behaviour (lifts, ticket office)
4. Price : skiing quality ratio
5. Access from the car park to the lifts
6. Availability of additional services
7. Quality of services provided
Pricelist - zima
ZIMA 2022/2023
Cenník skipasov
Dospelí
Deti
Price in EUR
1 day
25
20
Half day
24
19
Half day
23
18
Half day
21
17
Half day
20
15
Half day
18
14
Half day
47
Half day
19
14
Half day
3,50
3,50
Half day
4,50
4,50
Half day
5,50
5,50
Half day
44
33
Half day
66
47
Half day
77
55
Half day
88
66
Half day
99
72
Half day
110
77
Price list information
Skipasy sú platné v lyžiarskom stredisku Jasenská dolina - Kašová
BIKE PARK at weekends in operation and in case of good weather.
zľavnený lístok platí pre deti od 5 do 15 rokov (narodené od 1.5.2008), osoby s preukazom ZŤP, seniori - osoby do dátumu narodenia 30.4.1962. Pre uplatnenie nároku je nevyhnutné predložiť preukaz totožnosti, preukaz ZŤP, dieťa - preukaz poistenca.
Deti do 4 rokov ZADARMO - pre uplatnenie zľavy je zákazník povinný predložiť preukaz poistenca dieťaťa.
20 % pre držiteľov karty "Rodinný pas Jasenská dolina". Zľava platí na všetky typy lístkov okrem jednotlivých jázd, registrácia možná v Infocentre - zľava platí len pre stredisko Kašová
20 % pre držiteľov preukazov Karta mládeže EURO 26, preukaz ITIC,ISIC - zľava platí na všetky typy lístkov okrem jednotlivých jázd po predložení platného preukazu
V prípade vyzvania obsluhou dopravných zariadení je návštevník povinný preukázať sa platným lístkom. Pokiaľ obsluha zistí, že návštevník jazdí na neplatný alebo neoprávnene zľavnený lístok, tento mu bude odobratý bez nároku na vrátenie cestovného. Táto povinnosť platí aj pre držiteľov sezónnych lístkov.
Prevádzkovateľ môže poskytnúť aj iné typy zliav po vzájomnej dohode.
Všetky druhy lístkov sú neprenosné! V prípade porušenia tohto usmernenia je prevádzkovateľ oprávnený lístok odobrať bez nároku vrátenia peňazí !
Lístok je platný LEN v deň zakúpenia (NEPLATÍ PRE VIACDŇOVÉ SKIPASY).
Map - Lyžiarska mapa - Jasenská dolina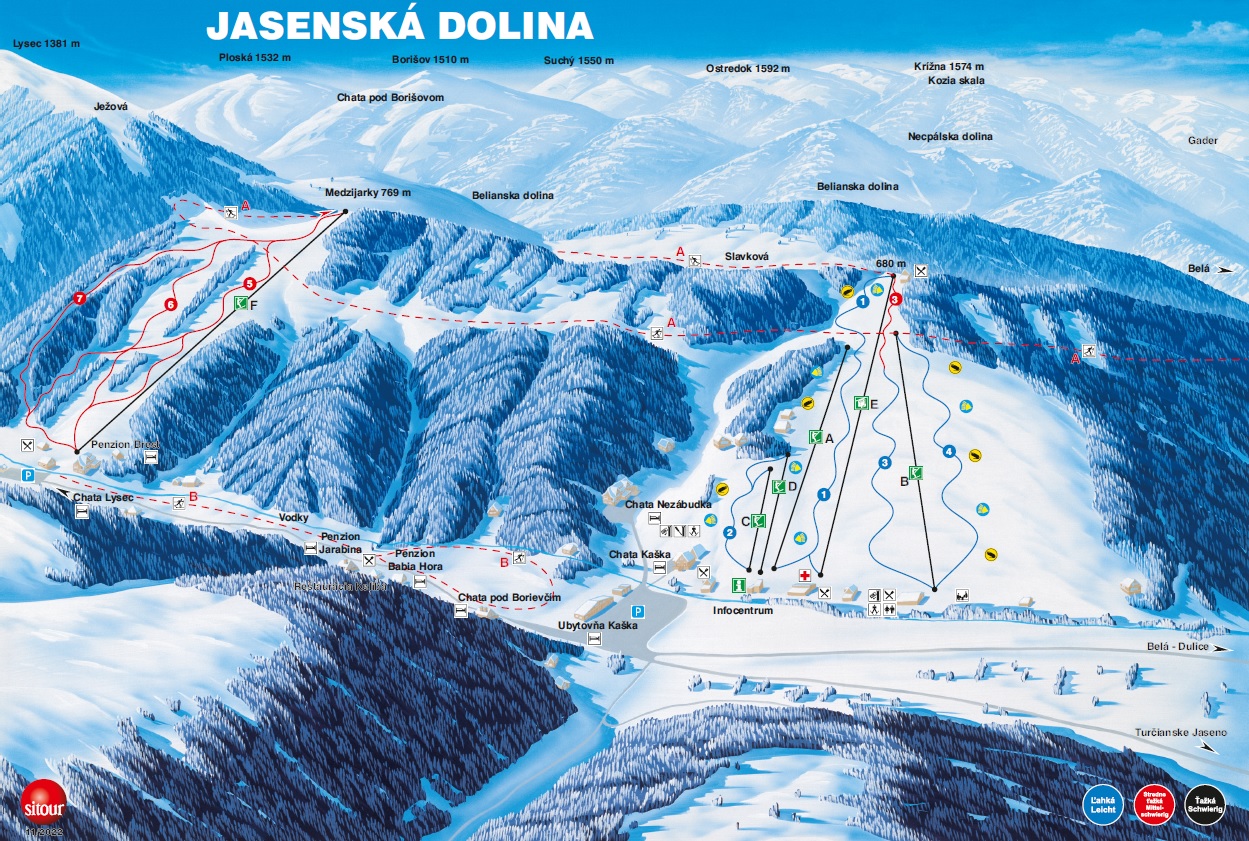 +
–
Lifts

A - vlek F10
400 m
600 pph

B - vlek H60
500 m
900 pph

C - vlek S1
150 m
300 pph

D - Tatrapoma S2
190 m
350 pph

E - lanovka Enterprise
647 m
2400 pph

F - vlek H80
700 m
1200 pph
Cross-country
Length
Groomed length
Status
Bežecká trať A (ľahká, nie je technicky zasnežovaná)
4000 m
-
Bežecká trať B (ľahká, nie je technicky zasnežovaná)
2500 m
-
Information about the resort
Ski resort Jasenská valley is located in the mountains of Veľká Fatra, 12 km far from the centre of Turiec - town Martin.
Skiresort is divided into 2 parts - Kašová and Lehota. There are 6 skilifts and 1 x 4-chairlift available, with a total transport capacity of 6100 pers./hour. Ski slopes of easy and medium difficulty (overall length of 5290 m), are located at 540 - 770 m above sea level and they are regularly treated. The longest skislope in locality Kašová has length of 800 m, in Lehota 1100 m. Slopes in Kašová are covered with artificial snow in case of lack of snowy days. Cross-country skiers can also have a great time in Jasenská dolina. There are 6,5 km cross-country trails near skiresort.
Further attractions and facilities
snowtubing, evening skiing, skiservis, ski school, skirental, restaurant, snack bar, free parking














Contact

Jased s.r.o.
038 11 Belá-Dulice 385
Email: jasenskadolina@gmail.com
Web: www.jasenskadolina.sk
Tel: 043/429 77 17