Opening hours
| | |
| --- | --- |
| Monday: | Closed |
| Tuesday: | Closed |
| Wednesday: | Closed |
| Thursday: | Closed |
| Friday: | Closed |
| Saturday: | Closed |
| Sunday: | Closed |
Ski conditions
today:

14 to 26°C
Weather forecast:
Monday (27.6.)

16 to 26°C
Tuesday (28.6.)

16 to 28°C
Reviews from skiers
2. Waiting time for lifts and cable cars
3. Staff behaviour (lifts, ticket office)
4. Price : skiing quality ratio
5. Access from the car park to the lifts
6. Availability of additional services
7. Quality of services provided
Map - Polomka - Bučník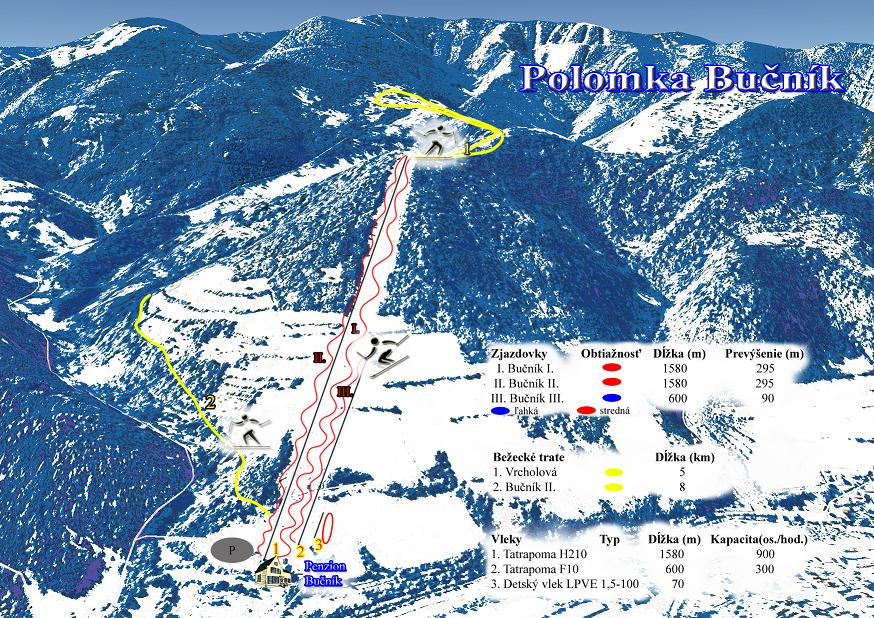 Downhill slopes
Polomka Bučník III.
600 m
90 m
Lifts

Detský vlek LPVE 1,5-100
70 m
0 m

Tatrapoma H 210
1580 m
900 m

Tatrapoma F10
600 m
300 m
Cross-country
Length
Groomed length
Status
Information about the resort
Lyžiarske stredisko Polomka Bučník sa nachádza 18 km východne od okresného mesta Brezno. Je ľahko dostupné autom i autobusom. Bezplatné parkovanie sa nachádza priamo pri nástupe na vleky. Celková kapacita strediska je 1200 os./hod. 3 zjazdové trate ľahkej a stredne ťažkej obtiažnosti sú pravidelne upravované a technicky zasnežované. Stredisko je vhodné pre rodiny s deťmi i pokročilých lyžiarov.
Služby:
Občerstvenie je zabezpečené v bufete a v reštaurácii priamo v areáli. Stredisko ponúka i možnosť ubytovania v Penzióne Bučník, v 2-lôžkových izbách, každá s vlastným sociálnym zariadením. Celková kapacita penziónu je 40 lôžok ( 20 pevných lôžok + 20 prísteliek). K ďalším službám patrí: skiservis, požičovňa lyžiarskej výstroje, lyžiarska škola i úschovňa lyží. V strede obce je k dispozícii bankomat. Asi 5 km od strediska v Závadke nad Hronom je plaváreň a sauna.