Opening hours
| | |
| --- | --- |
| Monday: | Closed |
| Tuesday: | Closed |
| Wednesday: | Closed |
| Thursday: | Closed |
| Friday: | Closed |
| Saturday: | Closed |
| Sunday: | Closed |
Ski conditions
today:

0 to 4°C
Weather forecast:
Monday (27.3.)

1°C
Reviews from skiers
Pavčina Lehota has not been rated yet this season
Price list Ziarce
WINTER 2022/23
valid 22. 12. - 31. 3.
adult
child | sen.
1 ride
3
2
2 hours
14
12
4 hours
16
13
1 day
19
15
2 days
35
30
3 days
43
37
4 days
50
43
5 days
55
49
Pricelist information
Children - up to the age of 12 years
Seniors - men, women 60+
2 Eur deposit on keycard.
Map - Pavčina Lehota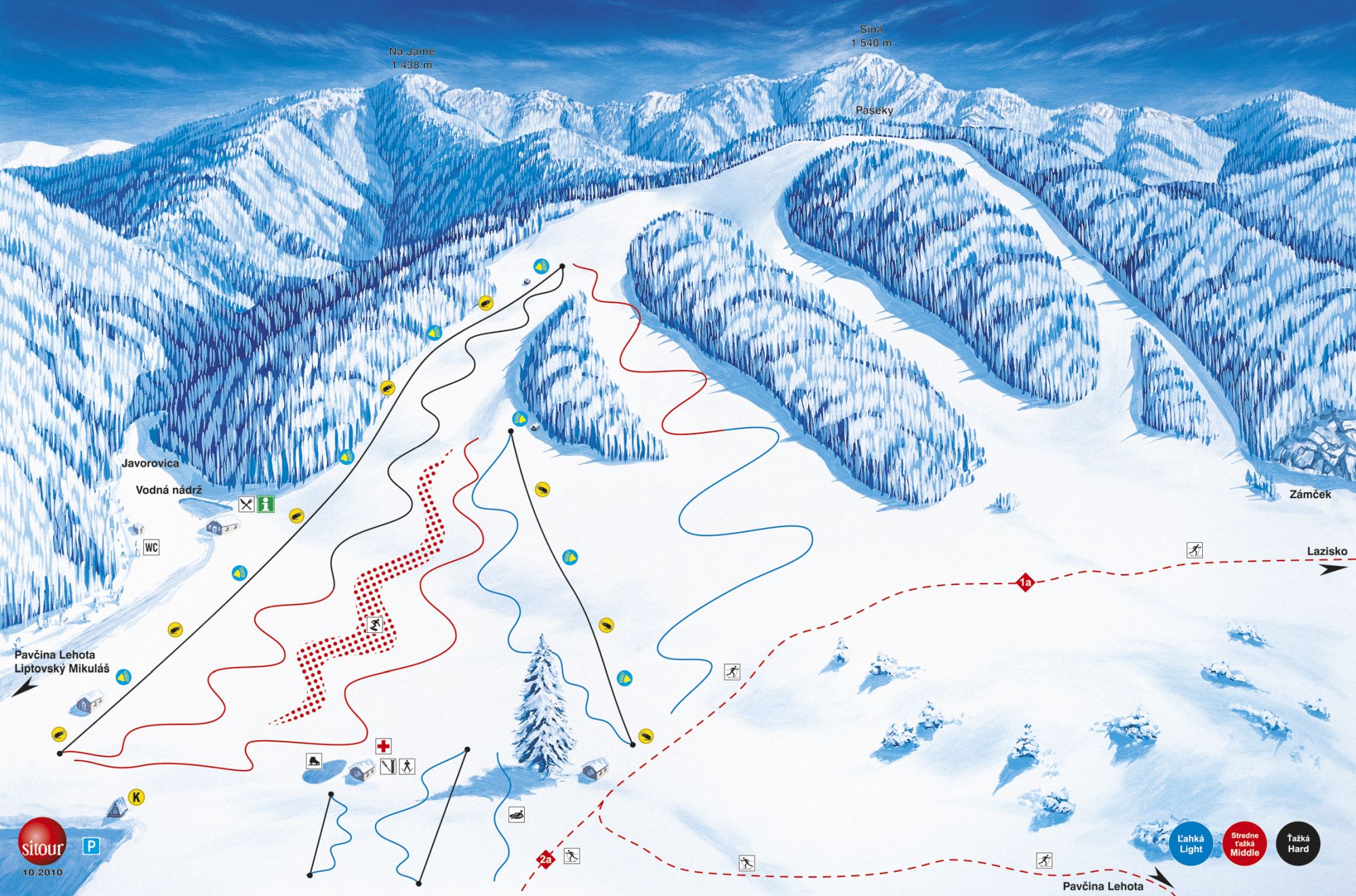 +
–
Lifts

Double-Max
450 m
1200 pph

Single
254 m
695 pph

LPVE 4-200 (Snowtubingový)
90 m
300 pph

Detský vlek LPVE 4-200
40 m
150 pph
Cross-country
Length
Groomed length
Status
Information about the resort
Vyskúšajte svahy v liptovskom stredisku Pavčina Lehota
The ski resort Žiarce is located in the region Liptov near the village Pavčina Lehota in the bottom of mountains Low Tatras and near the entrance to the valley Demänovská Dolina, 760 m above sea level. Since this area is oriented to north, it has good snow blanket till the beginning of the spring.
Beautiful scenery of the valley Liptovská kotlina and mountain ranges West Tatras, Roháče and Chočské vrchy multiplies the excellent skiing on the adapted slopes.
This ski resort is located only 8 km far from the centre of the town Liptovský Mikuláš, it has very good access road and free parking place.
What do we offer?
evening skiing
adapted tracks for ski running
ski school
ski equipment rental company
leasing of the slope for skiing
refreshments
free parking place












Contact

Žiarce, a.s.
Hotel Bystrina 23
032 51 Demänovská Dolina
Email: hotelbystrina@hotelbystrina.sk
Web: www.ziarce.sk
Tel: 044/554 81 63