Opening hours
| | |
| --- | --- |
| Monday: | Closed |
| Tuesday: | Closed |
| Wednesday: | Closed |
| Thursday: | Closed |
| Friday: | Closed |
| Saturday: | Closed |
| Sunday: | Closed |
Ski conditions
Monday 2023-09-25 (today)
09:00
15 - 17 °C
12:00
18 - 20 °C
15:00
20 - 21 °C
18:00
15 - 18 °C
2023-09-25
2023-09-26
2023-09-27
Reviews from skiers
2. Waiting time for lifts and cable cars
3. Staff behaviour (lifts, ticket office)
4. Price : skiing quality ratio
5. Access from the car park to the lifts
6. Availability of additional services
7. Quality of services provided
Pricelist
Valid from 25.12.2022
Pricelist of skipasses
adult
child | senior*
2 hours
21
19
4 hours
25
22
1 day
28
23
Evening skiing
28
23
2 days
54
48
3 days
80
70
4 days
100
90
5 days
120
105
1 ride - big skilifts
3
2
1 ride - small skilifts
2
2
Price list information
Prices in Eur
* valid for children up to 140 cm of high, pensioners older than 62 years, disabled persons
Ticket for 2 and 4 hours is valid from the time of its purchasing at cash desk. This ticket is not valid for evening skiing.
There is no refund in case bad weather, loss of skipass, blackout or sickness.
Map - Drienica (Zima)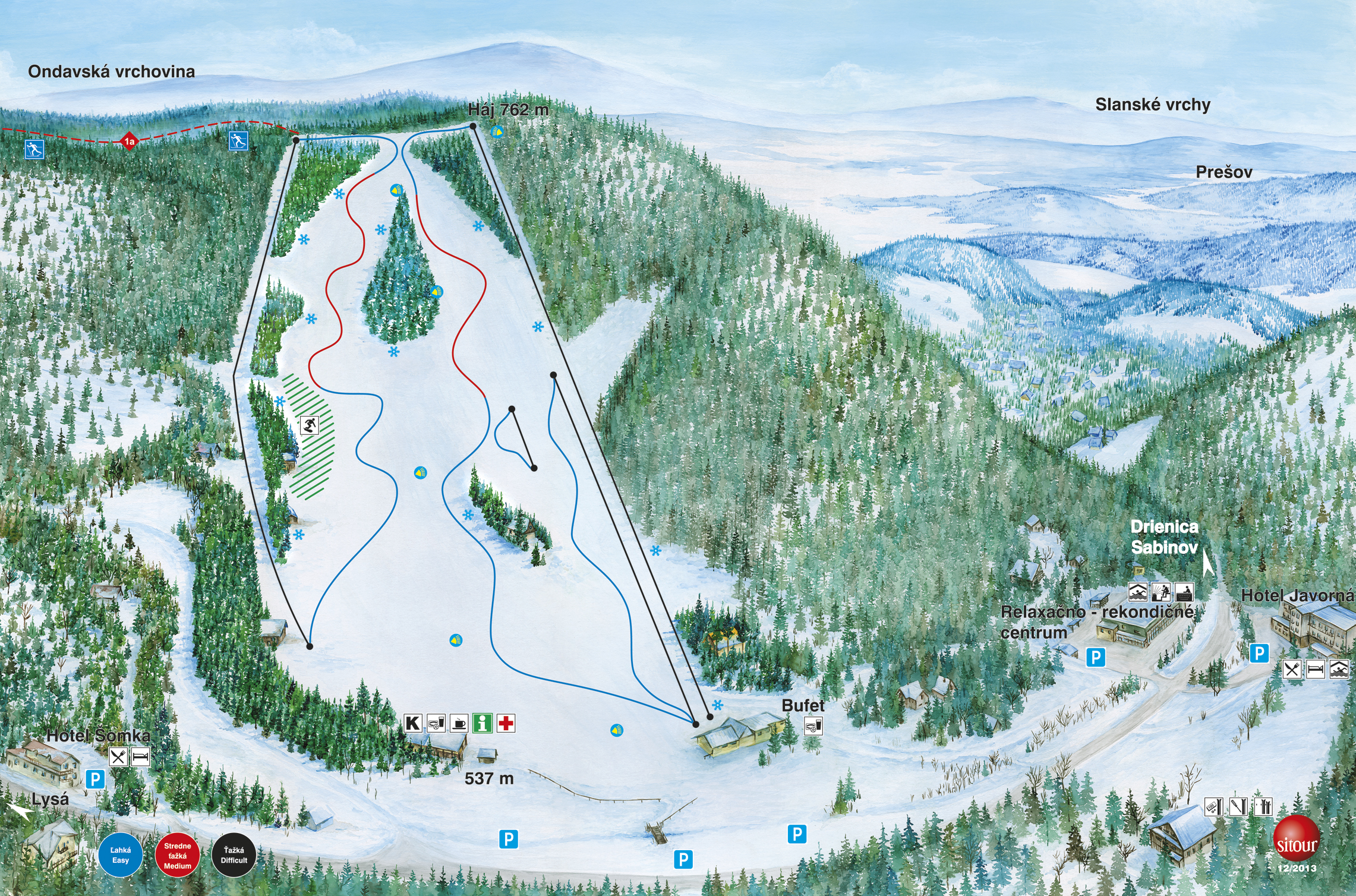 +
–
Downhill slopes
2 - Farkaš Lab
1000 m
180 m
Lifts

A - Červený, Tatrapoma H 130
1000 m
900 pph

B - Modrý, Tatrapoma H 130
1000 m
900 pph

C - Zelený, Tatrapoma P 300
300 m
500 pph

D - Žltý, Tatrapoma S 150
150 m
240 pph
Cross-country
Length
Groomed length
Status
Season 2022/2023
Information about the resort
Ski resort Drienica is located in eastern Slovakia, 4 km from Sabinov in the Čergov Mountains. In the resort there are 2.5 km of ski slopes of easy and medium difficulty situated at an altitude of 537 to 762 m. Transportation of skiers is provided by 2 large and 2 small lifts, with a total hourly capacity of 2500 persons / hour. Drienica is a popular resort in this region for the possibility of night skiing, which takes place daily during the main season. Additional services include a ski school, ski rental, storage, buffets, restaurants and the possibility of accommodation in nearby hotels and guesthouses. Technical snowmaking ensures the season from Christmas to the end of March. The surrounding mountains, in suitable snow conditions, attract people to go cross-country skiing.









Contact

BESNA, s.r.o.
Drienica 63
083 01 Sabinov
Email: info@skidrienica.sk
Web: www.skidrienica.sk
Tel: 051 / 4584 270